B12 Shots
Vitamin B12 is an essential nutrient for our body. It is needed to make red blood cells, nerves, DNA, and ensure that a number of critical actions occur for the body to function normally. It is sourced from our food and then converted into an active form in the digestive tract. Plants do not make B12, it is sourced from meat, eggs, dairy products, and other animal sourced foods.
B12 deficiency is very common and can be experienced as fatigue, nerve tingling, weakness, or numbness (such as peripheral neuropathy, tremors, or restless leg syndrome), sleep issues, PMS, cognitive and memory decline, and moodiness.
People that are more likely to have deficient levels are those that have had chronic stress, are vegan, vegetarian, or mid-life, have regular medication use such proton pump inhibitors and anti-histamines, inflammatory digestive issues including gastritis, gastric reflux, or colitis, and chronic illness.
This is a safe natural treatment for fertility, preconception, and nausea of pregnancy. If you are pregnant or nursing, B12, methylfolate, and B6 can be offered, a brief physician visit may be requested to review your needs.
Nutrient Shots
A nutrient shot is a customized blend of vitamins, minerals, and antioxidants administered via intramuscular injection. Nutrient injections bypass the digestive system and are absorbed directly into the cells. This allows us to use higher doses than can be absorbed orally for more advanced treatment. Your body absorbs the nutrients easily so you can feel the benefits faster.
Our physician-formulated nutrient injections use the most bioactive forms of nutrients and have been carefully developed with our patient's needs and requests in mind:
Improved energy levels

Minimize the impact of stress

Increased metabolism

Mood and hormone balance

Improved athletic endurance, benefit, and recovery

Enhance a treatment course for thyroid health, adrenal fatigue, nervous system disorders, hormone imbalance, allergies, detox plans, weight loss, energy restoration

Natural skin and hair growth support
Nutrient Injection Menu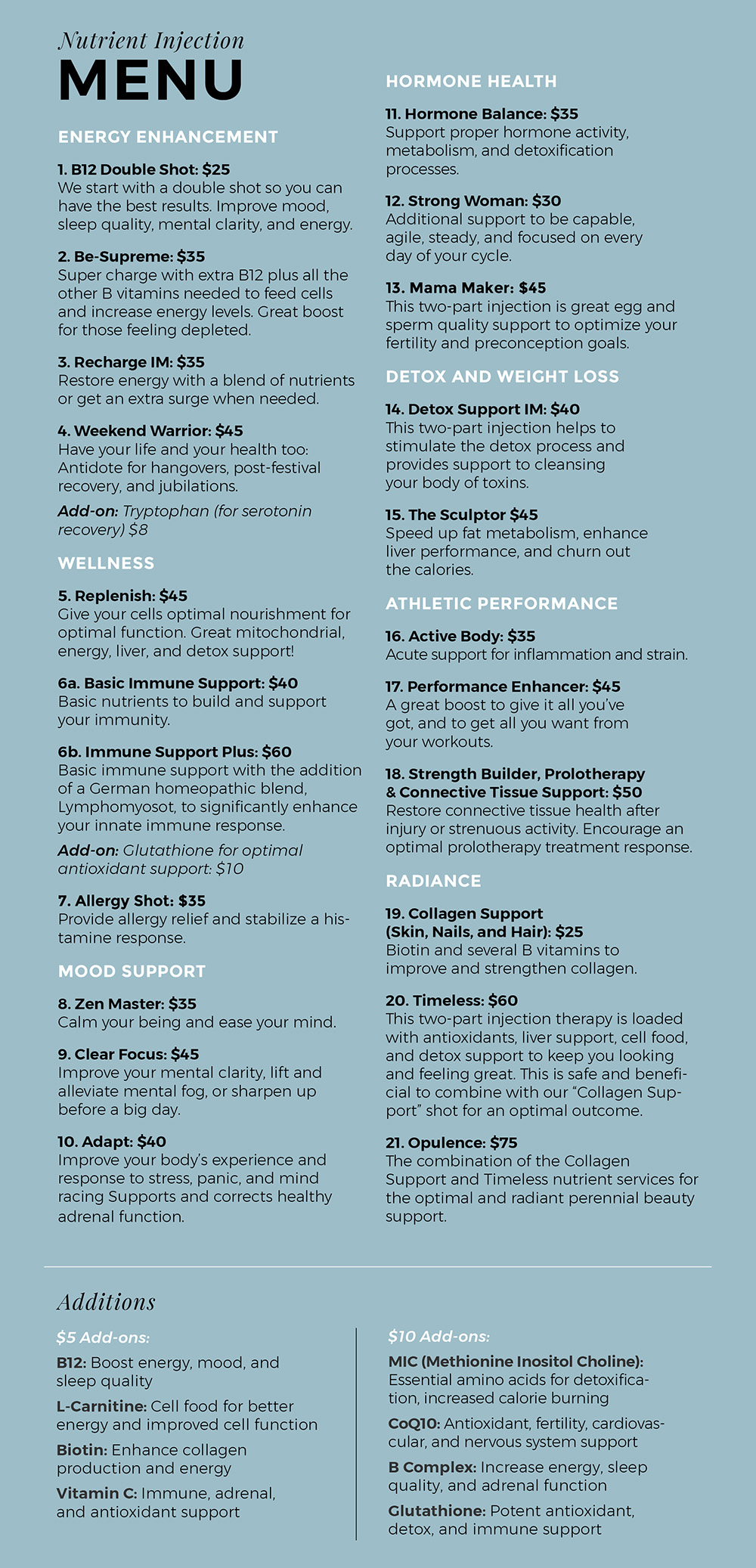 WALK-INS WELCOME!
Our nutrient injections are absolutely safe to do on a weekly or bi-weekly basis. Although our practitioners use these therapies prescriptively as part of existing treatment plans, anyone can walk in for this service without an appointment. Once you have selected from our nutrient injection menu, a medical assistant will greet you, review the process, and deliver the injection in the gluteus or the shoulder region.